This is an archived article and the information in the article may be outdated. Please look at the time stamp on the story to see when it was last updated.
COLUMBUS, Ohio– The Ohio Attorney General's Office released a facial reconstruction and background information on a woman believed to be a victim of convicted killer Shawn Grate.
Last month, Grate, 41, was found guilty of aggravated murder and kidnapping in the deaths of Stacey Stanley, 42, and Elizabeth Griffith, 29. He was sentenced to death.
Now, there is an increased effort to identify another possible victim. Her remains were found off of Victory Road in Marion on March 10, 2007. She may have been killed years prior.
On Tuesday, the attorney general's office sent a public bulletin to authorities in Alabama, Florida, Georgia, Louisiana, Mississippi and Texas. Isotope analysis of the victim determined she was likely born in one of these states. Testing also showed she likely spent the last five years of her life in Texas, Florida or the Caribbean.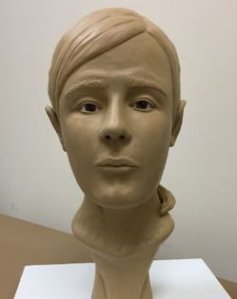 Grate confessed to killing the Marion County Jane Doe, as well as two others in Richland County. He told investigators he may have killed the woman between 2004 and 2005. He said he believes she was a magazine saleswoman.
"This victim is believed to have died at the hands of a cold-blooded killer who later went on to kill others, and the fact that she has been unidentified all this time makes her case even more tragic," said Attorney General Mike DeWine, in a news release on Tuesday. "By sending this bulletin, we hope this case will get more attention outside of Ohio and that someone will recognize a face they haven't seen in more than a decade."
The Marion County Jane Doe was between 15 and 30 years old. She had brown hair and was likely between 5 foot 3 and 5 foot 9, and weighed 100 to 150 pounds. Her teeth were well cared for and she had no obvious dental work, the attorney general's office said.
An Ohio Bureau of Criminal Investigation forensic artist created the facial reconstruction using the woman's skill.
Anyone with information is asked to call the Ohio Bureau of Criminal Investigation at 740-845-2406 or the Marion County Sheriff's Detective Christy Utley at 740-382-8244 ext. 5120.
Continuing coverage of this story here