This is an archived article and the information in the article may be outdated. Please look at the time stamp on the story to see when it was last updated.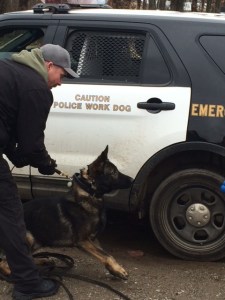 CANTON, Ohio -- He's not wearing a badge yet, but the newest member of the Canton Police Department is ready to work.
Tuko showed up early Monday morning with his trainer, Officer Ryan Davis, to begin training.
"He is a great dog," Davis said.
Davis lost his former partner, Jethro,  last month.
Jethro was killed after he was shot several times during a shoot-out with a suspect.
Last week, Davis and Dave Blosser with Tri-State canine were at K9s4COPS in Houston looking for Davis' new partner, and that's when they found Tuko.
K9s4COPS is a non-profit organization which donated the K-9 for training.
On Jan. 9, Jethro was killed as they investigated a burglary at a Canton grocery store.
Jethro was shot multiple times and died the next day.
The man arrested in the killing remains jailed on a $5 million bond, charged with felonious assault and shooting a police dog.
Davis said Jethro will always have a special place in his heart.