This is an archived article and the information in the article may be outdated. Please look at the time stamp on the story to see when it was last updated.
CLEVELAND, Ohio -- From celebrations to investigations, a number of neighbors are wondering why it took law enforcement so long to rescue Amanda Berry, Gina DeJesus, Michelle Knight and a child at a Cleveland home.
One young lady, who didn't want to be identified, told Fox 8 News that a number of neighbors have called the police about the house several times over the last few years.
"It didn't look right, and it didn't feel right," she said. "It was boarded up, taped and stuff. It's not normal when it's 90 degrees out."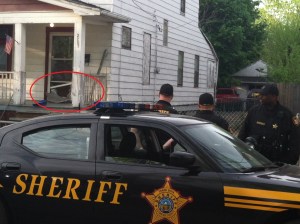 Neighbors on Seymour Avenue said kidnapping suspect Ariel Castro's house always seemed weird to them, and some children were warned to stay away from it.
The young lady told us there were also unusual sightings and sounds.
She said people who live behind the home, across the street and down the street all called the police about different incidents.
"We 'seen' a naked lady in the backyard," she said. "And we said something to her, and he told her to get down and we said something to him, and he told her to get in the house, and he ran behind the cars."
She said they reported it Cleveland police but that they didn't believe her.
Monday evening, the three women and the child were rescued from the property.
Amanda Berry was about 17 when she was abducted while walking home from work 10 years ago. Gina DeJesus was 14 when she was taken a year later. Michelle Knight is the only victim who was taken as an adult.
At a press conference Tuesday morning, Cleveland Director of Public Safety Martin Flask said that they had not identified any calls, complaints or serious problems being reported at the property. However their investigation is on going.
"We're going to continue to look at all the databases not only from calls being made from that address or about that address, but any calls that made or could've been made by residents alleging illegal activity or inappropriate activity accompanied with that home," said Flask.
But neighbors said they know the truth, and they just wish someone had listened to them.
"If they would've taken an extra step to go in the house, they could've been home a lot sooner," said the neighbor.
For extended coverage on this story, click here.