This is an archived article and the information in the article may be outdated. Please look at the time stamp on the story to see when it was last updated.
CLEVELAND – This week, some Cleveland Police officers took away a basketball hoop used by kids in the street and ticketed a mother. But that left some other officers so outraged, they got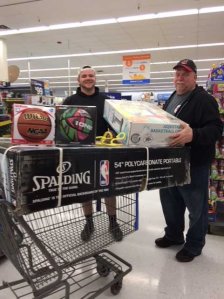 together to replace the hoop.
It happened on the city's west side.
Cleveland has an ordinance against playing in the street. A report shows police went to the home after receiving a complaint. They seized the hoop, hauled it away, and issued a ticket.
But, Tuesday, officers gathered donations, bought a new hoop, delivered it to the home on Behrwald, and they set it up in the family's driveway.
Those helping out, we're told, include the Northeast Ohio Fallen Officers Fund, former police union president and current detective Steve Loomis, local businesspeople, and even officers involved in the initial complaint.
It doesn't wipe out the ticket, but cell phone video from the surprise delivery shows broad smiles on the faces of the kids.
We'll watch to see what happens in court.