This is an archived article and the information in the article may be outdated. Please look at the time stamp on the story to see when it was last updated.
NORTH CANTON, Ohio– Severe storms struck in Stark County overnight.
Heavy rain and wind came through the area just before 9 p.m. Thursday. It ripped siding off of houses,  knocked down trees and took down power lines. The National Weather Service reported damage across Plain and Lake townships.
The Stark County Emergency Management Agency said the storm moved across one section of North Canton, near Stonebridge Avenue and Strawberry Street. This intense path was about a half-mile long.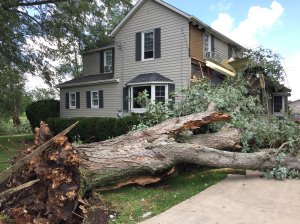 The National Weather Service went to assess if the damage. Officials determined it was not a tornado, but straight-line winds or a microburst. There was nothing tornadic in nature.
The NWS said winds were between 70 and 80 mph.
A large tree crushed part of the porch of Rick Griggy's house on Mt. Pleasant Street. Winds blew off the front and back doors of his barn, and a large limb smashed the windshield of a truck parked behind his house.
But nearby homes were mostly untouched. Neighbors said the storm happened in a very short period of time. They described torrential downpour with very low visibility.
One resident reported hearing a loud bang as the storm passed through, while others said there was a roaring sound.
There were no reports of any injuries.
More photos of the storm damage here