This is an archived article and the information in the article may be outdated. Please look at the time stamp on the story to see when it was last updated.
It's time to talk resolutions.  But not New Year's resolutions.  Let's take a look at last year's.
Our Fox 8 personalities proclaimed their intentions on camera, and now it's time to find out who made it work and who didn't.
We must first congratulate Tracy McCool on her success.  In early 2013, her New Year's resolution was not to make a resolution.  Hashtag automatic win.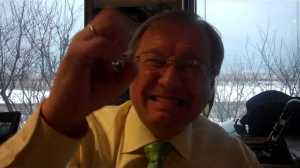 And we must sympathize with Enrique Correa.  He resolved to get into great shape to compete in the Tough Mudder in April.  Due to a back injury, Correa had to sit that one out.  Get well soon, friend.
Lorrie Taylor said she didn't keep her resolution to lose weight, but she managed to succeed at something even greater.
"I did make a resolution to become more involved with my own financial planning and I kept that resolution like I've never kept a resolution before," Taylor explained.  "I signed up for a financial planning course.  I have four months behind me and five more to go.  Every day I open the book I'm a smarter reporter and a better consumer."
Emily Valdez also had finances on the brain.  She wanted to "finally stick to a budget."  She did.
Jack Shea managed to eat less and exercise more.  He said he also cursed less in 2013.
The resolution made by Jennifer Jordan is a heartwarming one.  She resolved to find a husband.
"I put it in the universe and I met my soul mate in August 2013!" Jordan said.  "Will we walk down the aisle?  Stay tuned!"
Melissa Reid was set on helping Jennifer Jordan find a husband, so she gets credit, too!
Although he sets goals instead of resolutions, Andre Bernier has a success story.  He planned to finish the two books he started writing.
"I finished AND published the first one but the second remained unfinished after agreeing to help a Massillon church for the last half of 2013," Bernier said.  "I intend to complete that second book in 2014."
Check out Bernier's book here.
John Telich has survived the year of the puppy.  He overcame the challenges of raising young Scarlet in 2013.
"Scarlet still tries my patience, but for the most part, I have been better with her.  She has come a long way in her interaction with me and The Bride.  I think the resolution turned out well," he explained.
Peggy Sinkovich planned to keep her desk cleaner, but she thinks it got worse!  At last check there were several items strewn about, including a Woollybear sticker and two lint rollers (the essentials!).  Sinkovich also said it's not uncommon for Diet Coke cans to take up residence there.
Sometimes resolutions are forever a work in progress.  Such is the case with Maria Scali.
"(I) did not de-clutter the house or my life enough, still much to do," said Scali.  "I fear if I complete this task I might die.  And still working on being the best person I can be."
There's your look back at some of the 2013 resolutions floating around the FOX 8 newsroom.
From all of us here, we wish you a very happy and very safe new year!