This is an archived article and the information in the article may be outdated. Please look at the time stamp on the story to see when it was last updated.
OTTAWA COUNTY, Ohio-- The FBI and the Ottawa County Sheriff's Office have released new information to help identify a woman found more than 40 years ago.
Authorities said on Oct. 22, 1975, at around 6:10 p.m., two hunters came upon a nude female body floating in about 10 feet of water in Mud Creek.
The coroner's office ruled her death as a "questioned death."  It is believed she had been dead for 48-72 hours at the time of the discovery.
An investigation by the Ottawa County Sheriff's Office began, but all leads were exhausted, and now, more than four decades later, her identity remains a mystery. The sheriff's office never closed the case.
On Tuesday, due to advances in technology, law enforcement released a photo composite that has been reconstructed based on the woman's remains.
She is believed to have been 20-30 years old, about 5'4," between 140-150 pounds, with medium-length brown or reddish hair, and brown or hazel eyes.
 She had her ears pierced, but was not wearing earrings at the time. She had widely-spaced teeth with poor dental health and was a smoker.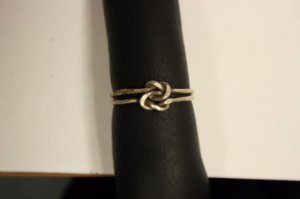 Authorities said she had given birth to at least one child, possibly within the year. She did not have any scars, birthmarks or tattoos.
A photo of a unique ring that she was wearing was also released on Tuesday. It is described as a wire love knot-type ring.
 If you recognize the photo or the ring, you're asked to please call the Ottawa County Sheriff's Office at 419.734.4404 or the FBI, Toledo Resident Agency at 419.243.6122.