This is an archived article and the information in the article may be outdated. Please look at the time stamp on the story to see when it was last updated.
CLEVELAND — It wouldn't be Christmas in Cleveland without Tower City's Toy Soldier.
The Toy Soldier, along with the Fairy Godmother and other cast members, put on a FREE holiday show on the Grand Staircase at Tower City in Cleveland every weekend from Thanksgiving to Christmas.
"My family discovered the show by accident more than 20 years ago when I was in the seventh grade," explains northeast Ohio native Missy Burrows.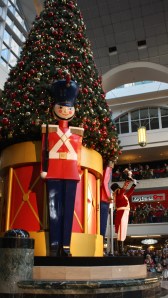 Burrows won New Kids on the Block tickets from Power 108, a popular Cleveland radio station at the time, and she needed her parents to pick them up.
Her dad decided to bring the whole family downtown, so he could show them where various parts of "A Christmas Story" were filmed. After they went to Higbees, they decided to take a quick stroll through Tower City.
"We were walking around the mall when we spotted the Toy Soldier and we were hooked. The show was so magical that we have been coming back ever since."
One of the most popular parts of the show is when the Toy Soldier selects children from the crowd to dance with.
"Every baby in our family has been selected to be part of the show since 1993 and this year was no different," says Burrows.
The entire audience was delighted when her 10-month-old nephew flashed a big smile at the crowd as the Toy Soldier held him in the air and danced.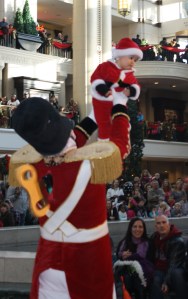 "A dance with the Toy Soldier makes baby's first Christmas so special," says Burrows. "I get choked up every time."
The Toy Soldier also danced with her younger sister in 1993, oldest son in 1999, daughter in 2001, twin boys in 2002 and niece in 2010.
"We always go to see the Toy Soldier the weekend after Thanksgiving," explains Burrows. "It's a great way to kick off the holiday season. It's magical, fun and free. It doesn't get any better than that!"
Click here for the exact dates and times the Toy Soldier performs at Tower City.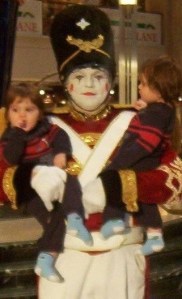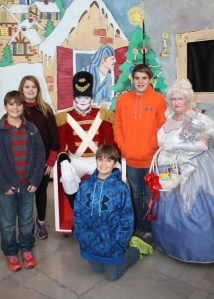 ______________________________________________