This is an archived article and the information in the article may be outdated. Please look at the time stamp on the story to see when it was last updated.
CLEVELAND — The Toy Soldier at Tower City has been bringing Christmas joy to families for 25 years.
The holiday show is a tradition that's being passed down from one generation to the next.
Alysha Stoyka of Parma has been going to see The Toy Soldier and Fairy Godmother Holiday Show since she was a child.
"My favorite part of the show would have to be when The Toy Soldier picks the kids out of the crowd," she says. "It brings back so many memories and makes me feel like a kid again."
The Toy Soldier picked up Stoyka in 1992, when she was 5 years old, and her brother in 1997, when he was just a few months old.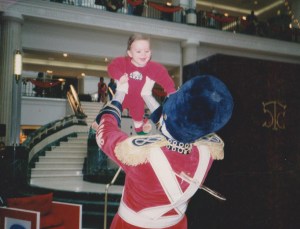 Stoyka and her husband brought their 6-month-old son Paul to see the show this year.
They hoped The Toy Soldier would select their baby boy from the crowd to be part of the show, and — sure enough — he did!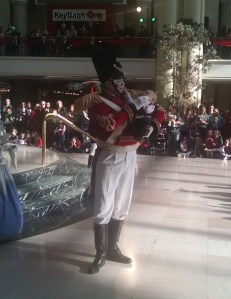 "I had mixed emotions when he was picked up," Stoyka explains. "Happy, excited, relieved…because I really wanted the toy soldier to pick him!"
After The Toy Soldier danced with her little boy, he chose a young woman to dance with.
Dancing with an adult is not something he normally does, but the crowd thought it was sweet..and it only got sweeter.
It turned out to be part of a surprise wedding proposal. (Click here for more about the surprise proposal, including video and interviews)
The Toy Soldier and Fairy Godmother Holiday Show is free and takes place on Saturdays and Sundays through December 21 at 1 and 3 p.m. on The Grand Staircase at Tower City in downtown Cleveland.
Everybody gets a chance to take a photo with The Toy Soldier and Fairy Godmother after the show during a meet-and-greet session.
Related Story:
My Town: Baby Santa Delights Crowd