This is an archived article and the information in the article may be outdated. Please look at the time stamp on the story to see when it was last updated.
CLEVELAND–The murder trial for a Cleveland woman accused of killing her 3-year-old son, Emilliano Terry, is now under way.
Opening statements began Tuesday afternoon, in the trial of Camilia Terry. The 21-year-old is facing two counts of aggravated murder, two counts of endangering children, one count of felonious assault, once count of tampering with evidence, one count of making false alarms and one count of gross abuse of a corpse.
Camilia Terry initially reported her son missing to Cleveland police on November 25, 2012; the 911 call made from Kossuth Park where Camilia claimed she was with Emilliano and two other sons when he disappeared.
Prosecutors say on November 25, Terry led police on a massive search for Emilliano, knowing she had placed his body in the garbage days earlier.
During opening statements today, prosecutors say Camilia Terry told detectives last month that it was an ex-boyfriend who drugged then killed her son.
Her defense backing that story and also painting the young mother as a victim, stating that she had been in and out of foster care since the age of 14 and was the victim of rape, physical and emotional abuse and too afraid to tell police the real story of how her son died.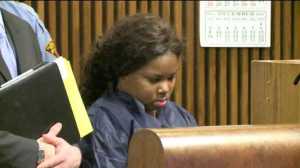 Among the three people who testified today, the police officer who responded to the 911 call when Camilia reported her son missing.
When asked about the place where he responded to the call, Kossuth Park, Cleveland Police Officer Robert Mangan said, "The park is very small. We look around or underneath anything he could be hiding."
Emilliano's official cause of death by the medical examiner was blunt impact to his head, torso and extremities.
At the time of his death, Emilliano was just 22 lbs and 34″ tall; prosecutors say the size of an 18-month-old baby.
The trial is expected to continue Wednesday morning and is expected to last up to three weeks.
Get continuing coverage by clicking here.