This is an archived article and the information in the article may be outdated. Please look at the time stamp on the story to see when it was last updated.
TOWNVILLE, S.C.-- The 6-year-old boy, who was killed when a teenager opened fire at his elementary school in South Carolina, was laid to rest Wednesday.
It comes a week after authorities said a 14-year-old boy killed his own father, then drove to Townville Elementary and fired on two children and a teacher as recess began. Jacob died Saturday. The other student and teacher were treated and released the day of the shooting.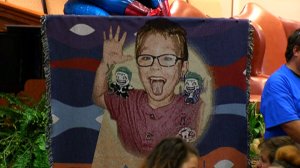 At the request of Jacob Hall's family, mourners wore superhero costumes to celebrate Jacob, who is being laid to rest dressed as Batman.
A fellow 6-year-old, Lily Gunby, said Jacob "was really sweet," and "knew a lot about Jesus." She sat in the pews of Townville's Oakdale Baptist Church, wearing a pink and black Superman shirt in her friend's honor.
The mourners included some people who drove for hours to attend the funeral. John Buckland drove his Batmobile from West Virginia, wore a full Batman garb, and gave the kids posters that said:"Tough things make me stronger."
Townville Elementary school teachers were also in the church, and wore handmade blue capes with a Ninja Turtle face and Jacob's name on the back.
The Rev. David Blizzard delivered the eulogy. Blizzard said Jacob loved everybody, and would "pretend he was a superhero. He imagined himself being the good guy and sure enough, it's almost surreal to think what's happened. This little boy has spoken to us and said, 'I want you to love each other like Jesus loves us.'"
Blizzard also referred to the nine people killed last year inside the Emanuel AME Church in Charleston, North Carolina. He said their families forgave that shooter.
Why forgive? Because, he said, "a superhero story is about good versus evil. The good always wins. We live in a dark world, but the good's going to win."