This is an archived article and the information in the article may be outdated. Please look at the time stamp on the story to see when it was last updated.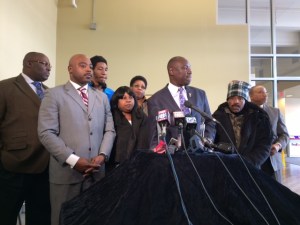 CLEVELAND- The mother of 12-year-old Tamir Rice held a news conference Tuesday afternoon.
Samaria Rice and her attorneys commented on the recent developments in the investigation at the Cleveland Branch of the NAACP.
On Friday, the Cleveland Division of Police turned the investigation over to the Cuyahoga County Sheriff's Office. Cleveland Mayor Frank Jackson said the decision was to ensure transparency and impartiality.
"Even though the investigation has been transferred, we are cautiously optimistic for a thorough investigation," said family attorney Benjamin Crump.
Samaria Rice said it doesn't matter who handles the investigation, adding what is important is whether the police will be help accountable for her son's murder.
Crump made several references to the deaths of Michael Brown in Ferguson, Missouri and Eric Gardner in Staten Island.
"Will the death of Tamir Rice be swept under the rug?" Crump said.
A Cleveland police officer shot and killed Tamir Rice at the Cudell Recreation Center on Nov. 22. Officers were responding to a call of a male with a gun, which police later learned was airsoft.
For more stories on the shooting of Tamir Rice, click here.