This is an archived article and the information in the article may be outdated. Please look at the time stamp on the story to see when it was last updated.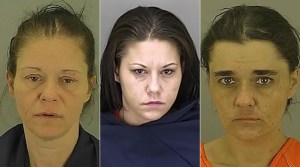 AKRON, Ohio — Four people, including the mother and grandmother of a 16-year-old found dead in a Green hotel room, have been indicted in his overdose death.
According to prosecutors, Andrew Frye, 16, was found dead in a hotel room in Green on April 6. The Summit County Medical Examiner's Office determined that he died from injecting heroin.
**For previous coverage, watch the video player above**
Investigators found that Frye's mother, Heather Frye; her friend, Jessica Irons; and Andrew's grandmother, Brenda Frye, were all in the hotel room prior to his death.
Heather Frye, 31, of Akron, faces charges of involuntary manslaughter, child endangering and tampering with evidence. Brenda Frye, 52, of Akron, faces charges of involuntary manslaughter and trafficking in heroin.
Jessica Irons, 34, of Stow, faces charges of involuntary manslaughter, reckless homicide, tampering with evidence, possession of heroin and contributing to the unruliness of delinquency of a child.
Donald Callaghan, 58, of Akron, is charged with heroin possession.
Police say they discovered the heroin Andrew used was obtained from Callaghan, who is Brenda Frye's boyfriend.
All four suspects will appear in court Tuesday.