This is an archived article and the information in the article may be outdated. Please look at the time stamp on the story to see when it was last updated.
GREEN, Ohio– The mother of the 16-year-old found dead in a Green hotel room was charged on Thursday.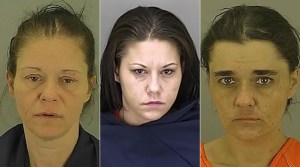 Summit County authorities were called to the Super 8 on Corporate Woods Parkway Wednesday evening. Andrew Frye, 16, was unresponsive and was pronounced dead at the scene.
Investigators found drug paraphernalia and syringes in the hotel room.
Heather E. Frye, 31, faces one count each of involuntary manslaughter, child endangering and tampering with evidence.
Brenda Frye, Andrew's grandmother, is also charged with involuntary manslaughter, corrupting a minor with drugs and trafficking in drugs. Reports from the Summit County Medical Examiner's Office said she was sent to buy the heroin.
Heather Frye's friend, Jessica Irons, 35, is also facing drug-related charges.
The U.S. Marshals Task Force arrested Heather Frye and Irons Friday morning in Stow.
"Our task force is seeing a growing number of heroin related deaths, and in turn warrants being issued to our team to find those responsible for these deaths.  This is a sad story, where a 16-year-old has lost his life, but justice must served for those that played a role in the young man's death," U.S. Marshal Pete Elliott said.