This is an archived article and the information in the article may be outdated. Please look at the time stamp on the story to see when it was last updated.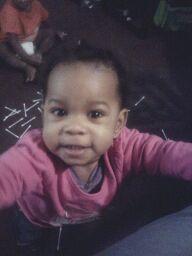 CLEVELAND, Ohio – A tragic end to the desperate search for a young mother and her baby who were kidnapped at gunpoint on the city's east side Saturday morning.
Cleveland Police Sgt. Sammy Morris says 19-year-old Latasha Jackson and her 1-year-old daughter, Chaniya Wynn, were found with alleged kidnapper, 35-year-old Thomas Lorde, in a closed garage of an unoccupied structure on Union Avenue.
All were found unresponsive with gunshot wounds to the head around 3 a.m. Sunday.
Police say that Lorde's injury was caused by a self-inflicted gunshot wound to the head.
The Cuyahoga County Medical Examiner's Office will determine the official cause of death for all three individuals.
According to CPD, Jackson and her daughter were taken at gunpoint by her estranged boyfriend from East 72nd Street and Union Avenue, at approximately 11:44 a.m. Saturday. They were last seen walking south down East 72nd Street.
An Amber Alert had been issued for Jackson and her daughter Saturday.
At a news conference late Saturday, Cleveland Police Chief Michael McGrath said the suspect, 35-year-old Thomas Lorde, was a violent sexual predator with an "extensive criminal history" in numerous states.
Stay with Fox 8 News and FOX8.com for the latest on this developing story.