This is an archived article and the information in the article may be outdated. Please look at the time stamp on the story to see when it was last updated.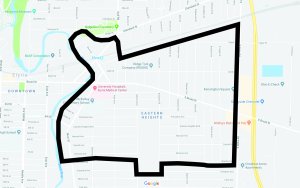 ELYRIA, Ohio — More than 2,500 people are still without service in Elyria.
Crews found air in a gas line during work Thursday, and out of caution, shut the system down in the Eastern Heights area of the city. The shut-off is affecting customers in the Eastern Heights Boulevard and Concord Avenue areas.
The mayor's office said Thursday it could be 24 to 48 hours before the service is restored.
Crews were doing work on an unrelated issue when they discovered the gas line problem Thursday. About 2,500 people in the neighborhood don't have heat or hot water or the use of some of their appliances.
Columbia Gas says employees will work non-stop to restore service and relight appliances in homes and businesses.
They say they must first shut off the gas to every customer in the impacted area, then make any needed repairs, and visit each customer, inside their home, to perform a safety inspection and relight appliances. This inspection could take approximately 30 minutes per home.
Columbia Gas crews from other locations around the state are reportedly arriving in the area to assist with the restoration of service.  Columbia Gas says employees will work non-stop to restore service and relight appliances in homes and businesses.
If impacted customers are planning to leave their homes, the mayor's office asks that they please leave contact information on their door or with a neighbor so that Columbia Gas' crews can gain access to the home to reestablish service.
Residents needing shelter are being asked to go to  Eastern Heights Middle School located at 528 Garford Avenue in Elyria. They can enter the school from the Prospect Street entrance.  A shelter at East Recreation Center has been closed.
Columbia Gas is also offering reimbursement for reasonable hotel and meal expenses to impacted customers.
Elyria outage customers: We will reimburse you for reasonable hotel/meal expenses if you need to leave home because of the cold. Please keep your receipts. Hotel: ohlodging@nisource.com. Expenses: 1-800-915-9161.

— Columbia Gas of Ohio (@ColumbiaGasOhio) November 30, 2018
Anyone who needs alternative housing  can email ohlodging@nisource.com or call 1-800-272-5440.
The Elyria Fire Department is urging residents not to use auxiliary heating methods, according to the mayor's office.
Additionally, Elyria City Schools are closed Friday, November 30 due to this incident.  The district released the following statement on Facebook, reading in part:
"This interruption in service necessitates the need to close all schools in the district. While the service interruption is primarily centered on the East side of town, it impacts Elyria High School and several other buildings. Elyria High houses the central kitchen which provides food to all schools in the district, therefore its closure necessitates the closure of all schools in the district."
Columbia Gas says customers are safe, however, if they smell gas they area asked to please go to a safe place and call 911, as well as Columbia Gas at 1-800-344-4077.
For updates from Columbia Gas, click here.