This is an archived article and the information in the article may be outdated. Please look at the time stamp on the story to see when it was last updated.
By Nick Valencia. Catherine E. Shoichet and Dana Ford
SHAWNEE, Oklahoma (CNN) — According to the medical examiner, 51 people are dead after a powerful tornado hit outside Oklahoma City on Monday. At least 20 of the victims are children, some pulled from the rubble of a school.
The Oklahoma Medical Examiner's Office has been told to expect about 40 additional bodies, according to the office's Amy Elliott. The official death toll will not rise until the bodies are processed.
Dozens of others, including 65 children, were injured.
Roofs were ripped off buildings and homes were leveled.
*Follow the latest from KFOR in Oklahoma City*
"We're doing everything we can … to find anyone who might be injured or might be lost" in the storm that hit the Oklahoma City area on Monday, Oklahoma Gov. Mary Fallin told reporters Monday evening.
President Barack Obama told Oklahoma Gov. Mary Fallin the federal government "stands ready to provide all available assistance" as part of the response to a series of deadly storms that have struck the Oklahoma City area, including Monday's devastating tornado. A White House statement said the Federal Emergency Management Agency (FEMA) has deployed a team to assist state operations, and additional personnel are ready to be dispatched as necessary. Obama told Fallin that "the people of Oklahoma" are in the first family's "thoughts and prayers," the statement said.
Survivors emerged from shelters to see an apocalyptic vision — the remnants of cars twisted and piled on each other to make what had been a parking lot look like a junk yard. Bright orange flames roaring from a structure that was blazing even as rain continued to fall.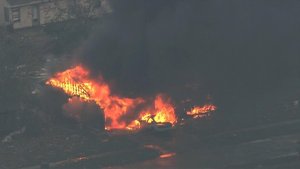 "Our worst fears are becoming realized this afternoon," Bill Bunting, with the National Oceanic and Atmospheric Administration's Storm Prediction Center, told CNN soon after the tornado struck."We certainly hope everyone heeded the warnings, but it's a populated area and we just fear that not everyone may have gotten the word," he said.
The tornado was estimated to be at least two miles wide at one point as it moved through Moore, KFOR reported.
The preliminary rating of damage created by the tornado is at least EF4 (winds 166 to 200 mph) — the second-most severe classification on a scale of zero to five — the National Weather Service said.
Lando Hite, shirtless and spattered in mud, told KFOR about the storm hitting the Orr Family Farm in Moore, which had about 80 horses.
"It was just like the movie 'Twister,'" he said, standing amid the debris. "There were horses and stuff flying around everywhere."
The tornado damaged several barns and he was worried many of the animals were killed.
Hite said he did not hear any warnings or sirens.
"It was real windy and everything stopped. Being from Oklahoma, I knew that was not right."
Moore Medical Center in Oklahoma was evacuated after it sustained damage, a hospital spokeswoman said.
All patients were being evacuated to Norman Regional Hospital and Health Plex Hospital, and residents injured in the storm were being told to go to those centers as well.
Interstate 35 in Moore was closed as a result of debris from the tornado, Oklahoma Department of Transportation spokesman Cole Hackett said. Crews were heading to the north-south highway to start the cleanup process.
"People are trapped. You are going to see the devastation for days to come," said Betsy Randolph, spokeswoman for Oklahoma Highway Patrol. She did not say how many people were trapped.
As authorities and rescue workers struggled to get handle on the damage, NOAA's Bunting warned the worst may be yet to come.
"These storms are going to continue producing additional tornadoes. They'll also produce some very, very large hail, perhaps larger than the size of baseballs. We're also concerned that there may be an enhanced and widespread damaging wind threat with storms as they merge together," he said.
"As bad as today is, this is not over yet."
The severe weather came after tornadoes and powerful storms ripped through Oklahoma and the Midwest earlier Monday and on Sunday.
Forecasters had said that the destructive weather, which killed at least two people, was perhaps just a preview.
Even before Monday afternoon's devastation, residents in areas hard hit by weekend storms were combing through rubble where their homes once stood.
"My mind is, like, blown, completely blown," said Jessie Addington, 21, who found that few pieces of her childhood home in Shawnee, Oklahoma, were still standing Monday.
Addington, who now lives in a nearby town, said her mother huddled in the mobile home's bathroom when the weekend storm hit. But the tornado still tossed her around like a rag doll, leaving her bruised and battered.
When Addington arrived, she was shocked to find the neighborhood where she had lived for 17 years reduced to ruins.
"I'm feeling cheated, to be honest," she said, "like, it's just all gone."
An estimated 300 homes were damaged or destroyed across Oklahoma in weekend weather, Red Cross spokesman Ken Garcia said.
Viewed from the air, the extent of the damage was staggering, said John Welsh, a helicopter pilot for KFOR. "Like you took the house, you put it in a gigantic blender, you turned it on pulse for a couple minutes and then you just dumped it out."
And that was before the monster tornado moved in Monday afternoon.
Oklahoma resident: 'It's just devastating'
Two men, both in their 70s, were confirmed dead as a result of an earlier tornado that hit Shawnee, said Amy Elliott, a spokeswoman for the state medical examiner's office.
When Kimberly Graham returned to the spot near Shawnee where her mobile home once stood, her 7-year-old son's orange bicycle was one of the only items that remained.
"Home, cars, garage, everything — gone," she told CNN on Monday. "It's just devastating. Everything that you've worked for. Everything that you've built."
As many as 28 tornadoes were reported in Oklahoma, Kansas, Illinois and Iowa, according to the National Weather Service, with Oklahoma and Kansas the hardest hit. Some of those reports might have been of the same tornado.
More tornadoes were spotted in Iowa, near Earlham, Huxley and east of Dallas Center, according to the National Weather Service.
The agency also confirmed a twister in the northwestern Illinois county of Carroll.
A combination of factors — including strong winds and warm, moist air banging against dry air — means severe weather could continue sweeping across a wide swath of the United States for days, Petersons said.
"Keep in mind we have all the ingredients out there that we need," she said.
Tornado watches were in effect for portions of southeastern Kansas, western and central Missouri, northwest Arkansas, central and eastern Oklahoma and northwestern Texas until 10 p.m. (11 p.m. ET).
CNN's Nick Valencia reported from Shawnee, Oklahoma. CNN's Catherine E. Shoichet and Holly Yan reported from Atlanta. CNN's Daphne Sashin, George Howell, Marlena Baldacci, Jareen Imam, Dana Ford, AnneClaire Stapleton, Sean Morris, Jackie Castillo, Alexandra Steele and Chris Friedman contributed to this report.