This is an archived article and the information in the article may be outdated. Please look at the time stamp on the story to see when it was last updated.
CLEVELAND-- Two women were sentenced for the murder of a 5-year-old girl Tuesday afternoon.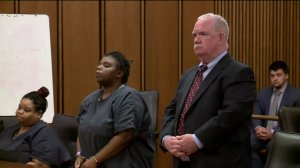 The child's mother, Tequila Crump, 28, was found guilty of reckless homicide and endangering children. She received 13 years in prison.
Her girlfriend, Ursula Owens, 38, was convicted of murder, reckless homicide and felonious assault. She was sentenced to 25 years to life in prison.
Five-year-old Ta'Naejah McCloud was taken to University Hospitals in full arrest on March 17, 2017. Owens told investigators the girl had a seizure, but doctors said she suffered from severe head and brain trauma. Prosecutors said there was also evidence of older injuries. Ta'Naejah died a few days later.
During the two-week trial, Owens' teen son testified Ta'Naejah was beaten and he tried to revive her as blood poured from her mouth.
Dominque Crump, the little girl's uncle, said he offered to help his sister, but Tequila refused. He described a time when they visited him in North Carolina. He said he bought clothes, diapers and wipes for Ta'Naejah, and reported the issues to child protective services in Virginia, where Tequila lived at the time.
When Dominque Crump learned his niece was in the hospital, he came to Cleveland and saw her terrible living conditions. Ta'Naejah's room was cold with no bed and crumbling walls, he said.
"I know now that Tequila lied to us and Ta'Naejah was suffering immeasurable abuse," Dominque Crump said.
Continuing coverage of this story here