This is an archived article and the information in the article may be outdated. Please look at the time stamp on the story to see when it was last updated.
CLEVELAND– Michelle Knight, one of three women who survived being held hostage for more than a decade in a Cleveland home, wrote a thank you note to Cleveland police.
The Second District put up the letter on its Facebook page, saying, "This is a special thank you note from a strong and resilient woman who will forever be held dearly in the hearts of the police officers and residents in the 2nd district."
Here is Michelle's thank you note to police: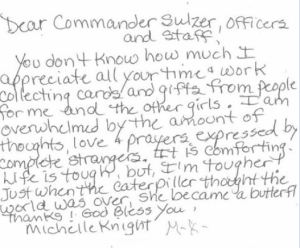 CNN reported Wednesday night that Michelle will likely make a statement when Ariel Castro is sentenced tomorrow. That's according to Castro's sister, Marisol Alicea. A source with direct knowledge of the investigation corroborated this information.
*We will carry the entire sentencing hearing LIVE on FOX8.com*
Last week, Castro avoided the death penalty by pleading guilty to over 900 counts of rape, kidnapping and aggravated murder; that was for beating one of the women until she miscarried.
Michelle, along with Amanda Berry and Gina DeJesus, were rescued from the Seymour Avenue home on May 6.
*Click for continuing coverage*