This is an archived article and the information in the article may be outdated. Please look at the time stamp on the story to see when it was last updated.
CLEVELAND– She cried every night. She felt so alone. She wondered if she would ever see her son again.
Michelle Knight, one of three women who survived being held hostage, showed up in person at Ariel Castro's sentencing hearing on Thursday and shared her heartbreaking, yet hopeful story, of what she said happened to her and the other two women– Gina DeJesus and Amanda Berry– inside the Seymour Avenue home.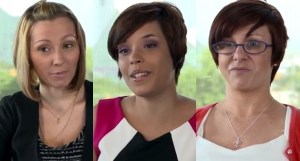 Michelle was held hostage the longest: 11 years. She said years turned into eternity.
Castro told her that her family didn't care. Christmas was the "most traumatic day," because Knight wasn't able to spend it with her son.
"You took 11 years of my life away, but now I have it back. I spent 11 years in hell. Now your hell is just beginning," Knight told Castro.
She went on to say, "I will live on; you will die a little every day."
Knight told Castro he deserves to spend life in prison. "I can forgive you, but I will never forget. With the guidance of God, I will prevail and help others who suffered," Knight said.
Knight said she knows there is more good than evil in the world.
Michelle finished her statement by saying, "After 11 years, I am finally being heard and it's liberating. Thank you all. I love you. God bless you."
Amanda Berry's sister, Beth Serrano, read a statement on behalf of her sister.
Amanda was kidnapped in 2003.
Beth said her sister is strong inside and out and is getting better every day. She said Amanda does not want to talk about these things or for others to talk about these things because of her daughter.
Sylvia Colon spoke on Gina DeJesus' behalf. She is Gina's cousin.
She said Gina does not live as a victim; she lives as a survivor.
Colon said, "Today is the last day we want to talk about this. We will continue to live and love. We stand before you and promise you that our beloved family member cries, laughs, swims, dances, and more importantly she loves and she is loved."
Colon spoke in Spanish to Castro. Translated, she said, "May God have mercy on you."
*CLICK HERE for continuing coverage on this story*
(FOX 8's Jessica Dabrowski contributed to this story.)