This is an archived article and the information in the article may be outdated. Please look at the time stamp on the story to see when it was last updated.
CLEVELAND -- Michelle Knight brought a vibrant symbol of hope to Seymour Avenue Wednesday, just a short time before a home that harbored a dark past was destroyed.
*Click here to watch live video of the demolition debris removal ...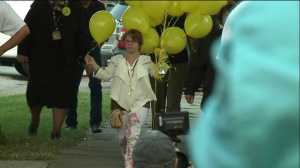 She carried a large bunch of yellow balloons and handed them out to neighbors to unite the community and thank people for their support.
Knight, who was one of the three women who were held captive in Ariel Castro's home for about a decade, is now an advocate for other missing children.
While standing on the sidewalk of Seymour Avenue, she read a prayer that said:
"Dear Lord, give the missing people strength and power to know that they are loved.  We hear their cries.  They are never forgotten in my heart.  They are caterpillars, waiting to turn into a butterfly.  They are never forgotten, they are loved."
Knight, Amanda Berry and Gina DeJesus escaped from the home in May.
"Nobody was there for me when I was missing, and I want the people out there to know, including the mothers, that they can have strength, they can have hope, and their child will come back.  They will, just have the love in God and you'll see they'll come back," Knight said.
Two homes to the west will be torn down as well.  How the land will be used will be determined by the survivors and community members.
Grass and flowers will be planted on the property immediately after the debris is removed.
*Get continuing coverage on this story here*