This is an archived article and the information in the article may be outdated. Please look at the time stamp on the story to see when it was last updated.
CLEVELAND, Ohio -- Grab your pumps and get ready to walk for a good cause!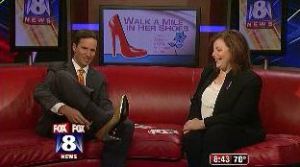 This year is Cleveland's inaugural Walk a Mile in Her Shoes event, which gives men a chance to raise awareness about violence against women. It's being held Oct. 18 by the Domestic Violence and Child Advocacy Center.
Each participant will wear women's shoes during a one-mile walk around Gateway Sports Complex. Women and children are also encouraged to participate.
The honorary chair of the event is Mike Brown, head coach of the Cleveland Cavaliers, and Fox 8s Mark Zinni tried his gold pumps on for size during the Morning Show.
For more, watch the video above.
For more on the event and the DVCAC, click here.