This is an archived article and the information in the article may be outdated. Please look at the time stamp on the story to see when it was last updated.
JACKSON TOWNSHIP, Ohio -- A memorial is growing outside of a Jackson Township restaurant where a little girl was killed.
People in the community have dropped off everything from stuffed animals to crayons outside of Ang's Asian Cuisine on Portage Street NW, in honor of 5-year-old Ashley Zhao.
Police say Ashley was found  "deceased and concealed" inside her family's restaurant on Tuesday.
She was reported missing on Monday by her parents, Ming Ming Chen and Liang Zhao, who told police she was last seen in the back room of the restaurant.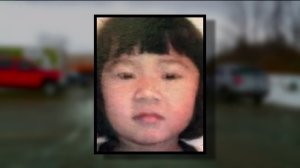 On Tuesday, a very tragic and heartbreaking discovery was made when authorities discovered her body inside the restaurant.
Ashley's mom, Ming Ming Chen, is charged with murder.  Authorities say she struck the child's head "several times with her right fist" and those injuries resulted in Ashley's death.
Ashley's father, Liang Zhao, is charged with complicity to murder and complicity  to commit felonious assault.
Both of the suspects appeared in court Wednesday morning. Bond was set at $5 million each.