This is an archived article and the information in the article may be outdated. Please look at the time stamp on the story to see when it was last updated.
CLEVELAND– The Cuyahoga County Medical Examiner's Office provided an update on the body parts found at a Cleveland home in September. 
Landscapers discovered the remains at a house on Longmead Avenue near West 130th Street in Cleveland on Sept. 20.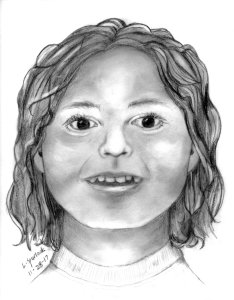 Medical Examiner Dr. Thomas Gilson released a sketch of the deceased boy on Wednesday. The child is approximately 4 years old with dark, wavy hair.
Gilson would not comment on the exact cause of death, but said it is extremely suspicious. The child was likely dead for a few months before being discovered.
Cleveland police said the skeletal remains were covered up in bags in the backyard. The house was not occupied at the time.
"There is somebody that misses this 4-year-old, they just haven't put the pieces together to know that we're looking for this person," said Cleveland Police Chief Calvin Williams.
He said investigators did not find a child matching this description in any database.
The medical examiner's office said even if you have not reported a relative as missing, you should call if the deceased fits the description of someone you have not seen recently. DNA submitted by family members, including parents, siblings and grandparents, will only be used for identification purposes.
Anyone with information should call the Cuyahoga County Medical Examiner's Office at 216-721-5610 press option 1 or the Cleveland Division of Police Homicide Unit at 216-623-5464.