This is an archived article and the information in the article may be outdated. Please look at the time stamp on the story to see when it was last updated.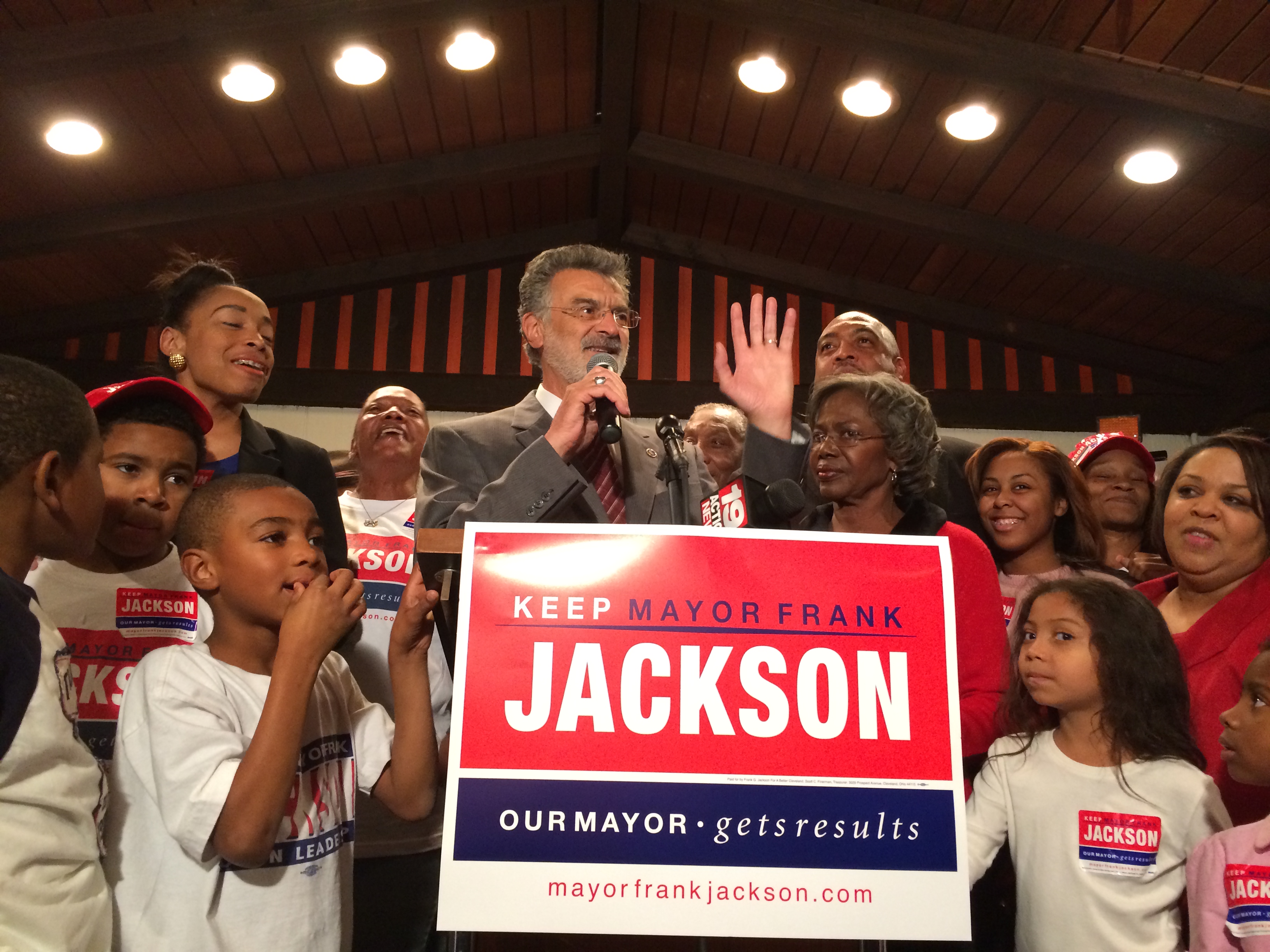 *CLICK HERE for updated election results*
CLEVELAND — Mayor Frank G. Jackson was re-elected to a third term on Tuesday, defeating his challenger, Ken Lanci, in a nonpartisan election.
Jackson, 67, said he was seeking another term in office to oversee the ongoing development in the city and he wanted to further the progress into the neighborhoods.
He spoke to a crowd of supporters shortly before 11 p.m. at Sterle's Country House on E. 55th Street.  A few hundred people gathered throughout the night to wait for results from the Cuyahoga County Board of Elections.  He told them what it means to him to be mayor.
"To serve the people of the city of Cleveland and to create an environment and to create an infrastructure to institutionalize a way of life that will relieve the burden of the people of the city of Cleveland," Jackson explained.
"I'm thankful for the confidence and the faith people have put in me for my third term," he continued.
"That's what my next four years will be about," Jackson said earlier on Tuesday, talking about Cleveland's development.  "How do we make sure that these things are in place to have a better pathway to success and a better guarantee of that success for the people and businesses of the city of Cleveland."
Jackson said he has worked hard over the past two terms to position the city for a brighter future.
"The people of the city of Cleveland know one thing about me, that I care about them," said Mayor Jackson during a debate several weeks ago with Lanci.
Lanci previously ran unsuccessfully for Cuyahoga County Executive in 2010.
"I really am looking forward to governing again.  The political side of campaigning, I have to do that, but my preference has always been governing," said Jackson.
He also reiterated his number one priority for his third term.
"My goal is to institutionalize the infrastructure that better guarantees success for the city as a whole and for people, in particular, and the businesses of the city of Cleveland and -- what do we need to do to make sure that happens so regardless of who the mayor is, it's just the way we do business."
"Thank you, thank you, I appreciate (your) support and demonstration of understanding the direction we're going in," said Mayor Jackson during an interview with FOX 8's Mark Zinni.
Jackson has benefited from strong support during his tenure as mayor.  He defeated his challenger with approximately 75% of the vote in 2009 and won with 55% of the vote when he first ran in 2005.
*Click here for more election coverage ...