This is an archived article and the information in the article may be outdated. Please look at the time stamp on the story to see when it was last updated.
CLEVELAND, Ohio -- The mayflies have returned.
The little bugs arrived in full force at the Fox 8 News station on Dick Goddard Way overnight.
They covered the driveway, parking lot and news trucks.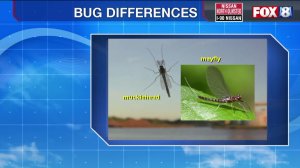 The bugs don't bite. In fact,  they're a sign of a healthy Lake Erie.
According to the Ohio State University, mayflies have been used as a key indicator of environmental health by agencies like the Ohio EPA to assess how Lake Erie and the other Great Lakes are faring over time.
They require very clean water to breed, and they begin their life cycle as larvae in lake sediments. They live there for about one year until the adult mayflies hatch into the swarms that arrive on shore, thanks to the wind, in late spring or early summer.
Those mayflies then reproduce and die shortly after.
Back in the late 1950s and early 1960s, the number of mayflies drastically dropped off. In 1993, scientists found about 12 mayfly larvae per square meter of sediment. That number is now about 300 to 400.
Last year, they arrived around June 22.
Try to resist the urge to squash the pesky critters; mayflies omit a fishy smell once they've been squished.
Mayflies are different from muckleheads/midges and are about three times larger.
Muckleheads moved in early last month. They were so thick, they appeared on our doppler radar.
Muckleheads are insects that hatch from Lake Erie in the late spring each year and push inland. They also don't bite; they are just very visible and swarm what's in their paths. They're also a sign of a healthy lake!
The mayflies will only be around for a week or two.
Have a photo of a huge blob of mayflies? Share by clicking "submit" below, or email to tips@fox8.com.