This is an archived article and the information in the article may be outdated. Please look at the time stamp on the story to see when it was last updated.
MASSILLON, OH –  When the Ohio State Highway Patrol made a traffic stop in Massillon late in the evening on July 3rd, they thought they might need some help from a local police officer.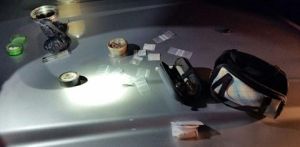 So they put out a call to the Massillon Police Department for some specialized assistance.
Enter Inca, the department's K-9 officer, along with human Officer Riccio. Inca was able to immediately "alert" on the stopped car. A search turned up meth pipes, crack pipes, suspected meth, unknown pills, and marijuana.
The Ohio State Highway Patrol arrested the occupants of the car.
To quote the Massillon Police Department:"'Job Well Done'.  Interagency cooperation is always a good thing!"