This is an archived article and the information in the article may be outdated. Please look at the time stamp on the story to see when it was last updated.
CLEVELAND — When FOX 8's Mark Zinni went for a routine physical, he didn't suspect anything was wrong.
But a doctor took one look at him and knew otherwise.
After some tests, Mark was diagnosed with stage one thyroid cancer and had his thyroid removed.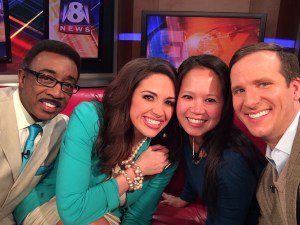 He and Dr. Joyce Shin, an endocrine surgeon at the Cleveland Clinic, talked about his diagnosis on Fox 8 News in the Morning Tuesday.
The good news is the cancer is both treatable and curable.
Mark will have to take medicine for the rest of his life and will undergo some other treatments, but there is no chemotherapy or radiation in his future.
Mark invited any viewers that have questions or who are interested in connecting with him to contact him via Facebook.
He also thanked everyone for their support.
Watch more in the video above.  Please note there are some pictures that viewers may find to be graphic.
Click here for extended coverage of Mark's medical journey.