This is an archived article and the information in the article may be outdated. Please look at the time stamp on the story to see when it was last updated.
(By Matt Anderson)
CLEVELAND– It appears Cleveland city leaders will give the green light for a new marina for boaters along the North Coast.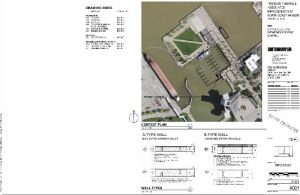 On Friday, Cleveland's Planning Commission will meet at City Hall to approve the $2.3 million project that will create space for 48 boats and will take up roughly seven acres behind the Rock and Roll Hall of Fame.
Cleveland architect Paul Volpe presented the plans to the Design Review Committee on Thursday with all indications for a Friday approval by the Planning Commission.
The project will be primarily funded by a grant from the Ohio Department of Natural Resources, according to Jackie Mayo, Cleveland's Port Control communications manager.
The renderings also detail a structure equipped with restrooms, showers and a laundry feature. Mayo expects the work to begin soon, with some limited use this fall; and the entire completion earmarked for the Spring of 2014.
For complete details on Cleveland's vision for the lakefront from city leader click here.