This is an archived article and the information in the article may be outdated. Please look at the time stamp on the story to see when it was last updated.
MANSFIELD, OH – A man who was brandishing razor blades, making threats and inappropriately touching juveniles was arrested at a Mansfield McDonald's on Saturday afternoon.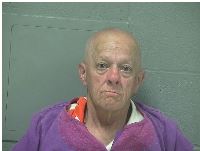 Douglas Long, 69, of Mansfield was charged with sexual imposition, aggravated menacing and inducing panic.
Police report that Long had gone into the lobby of the Stewart Road McDonald's and was threatening people with the razor blades. An employee told sheriff's deputies that Long told patrons that he would "cut off their genitals" if anyone "messed with him."
Long walked away from the employee, but went towards two teenage girls and began touching them in what police say was a sexual manner and referring to them as his "16-year-old girlfriends." Long eventually ran into a restroom and stayed there until police arrived. Upon searching him, they found  a razor blade in each of his boots.
Long later told deputies that he had never threatened anyone and that he had the razor blades for self-defense.  At the jail, after being given one of his summons for sexual imposition, a police report states that he "took his copy that was handed to him and ripped it up, stuffed in his mouth and swallowed it."
Long will appear in court at a later date.