This is an archived article and the information in the article may be outdated. Please look at the time stamp on the story to see when it was last updated.
CLEVELAND- A manhole explosion knocked out power in downtown Cleveland Thursday afternoon.
It happened at East 2nd Street and Huron Road just after 2 p.m., according to a Cleveland Public Power spokeswoman. About 30 customers, between East 2nd Street and Huron to East 22nd Street and Central, were affected.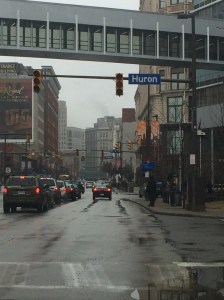 Cleveland police said traffic lights were out at Prospect, Euclid, Chester, Superior and East 9th Street; they started working a short time later. Officers were at intersections directing traffic until the issue was resolved.
Police are already expecting heavy traffic downtown Thursday evening for two NCAA men's basketball games at Quicken Loans Arena, starting at 7:15 p.m. and 9:45 p.m. Power at The Q was not affected.
Keep checking fox8.com and Fox 8 News for updates.