This is an archived article and the information in the article may be outdated. Please look at the time stamp on the story to see when it was last updated.
CLEVELAND-- The man who pleaded guilty in the death of 19-year-old Tierra Bryant was sentenced to 23 years in prison Monday afternoon.
Bryant was last seen on March 30, 2015 on Bagley Road in Middleburg Heights. Her body was found more than two years later.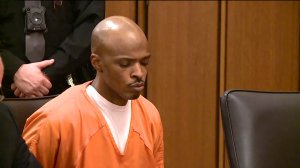 Last month, Rashan Hunt, 39, pleaded guilty to voluntary manslaughter, tampering with evidence, gross abuse of a corpse and obstructing official business.
Cuyahoga County Common Pleas Judge Michael Jackson sentenced Hunt to 15 years for the murder and an additional eight years because he is a repeat violent offender.
Bryant's mother Tameka Car described her family's suffering, not knowing what happened to the 19-year-old for years. She said Hunt treated Bryant like a dog.
"Nobody's going to be the same. Nobody's going to be the same because of him," Bryant's father said through tears.
On the day she disappeared, Bryant was at the Motel 6 in Middleburg Heights with Hunt. Police said she called a family friend, saying she felt uncomfortable and wanted to be picked up. But she never left the motel to meet her friend.
Defense attorneys said Bryant maced Hunt and tried to rob him, and she was injured during a struggle.
Hunt was arrested in Sacramento, California in June 2017. Prosecutors said he confessed to the crime and provided information on where to find the remains.
Investigators began searching a wooded area near Mussey Avenue in Elyria. After a few days, they located partial skeletal remains in a hole about 4 feet deep. They were later identified using dental records and tattoos.
Bryant was featured as part of FOX 8's Missing segment.
More stories on Tierra Bryant here