This is an archived article and the information in the article may be outdated. Please look at the time stamp on the story to see when it was last updated.
CANTON, Ohio-- The man who shot and killed Canton police K-9 Jethro after robbing a grocery store has been sentenced.
Kelontre Barefield, 22, was facing more than 50 years in prison if convicted.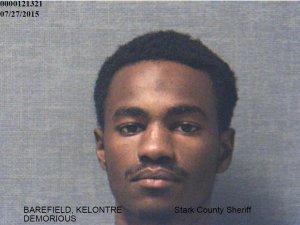 Barefield took a plea deal on Wednesday, pleading guilty to several counts including 1 count of aggravated robbery with a firearm, 1 count of felonious assault while discharging a firearm at a peace officer, 1 count of felonious assault on a police dog and breaking and entering.
He was sentenced to 34 years for that case.
He also got 11 years for another aggravated robbery case and will serve that consecutive to the other sentence.
He will serve a total of 45 years in prison.
The 3-year-old German shepherd Jethro was shot three times during the January confrontation in Canton and died the next day.
Jethro's police handler returned fire and shot Barefield in the leg.