This is an archived article and the information in the article may be outdated. Please look at the time stamp on the story to see when it was last updated.
CLEVELAND -- The off-duty firefighter who was shot to death as he was walking up to his home Sunday evening was described by his comrades as a "dedicated and devoted" man.
The incident happened around 8:30 p.m. in the 1800 block of Lampson Drive.
According to authorities, Lt. William Walker, 45, had parked his vehicle in his driveway and was walking to his house when he was shot multiple times in the chest.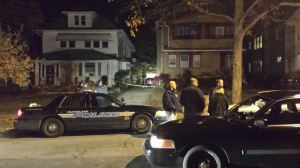 Family members said they heard shouting before the gunfire.
An update was given to the media around noon Monday.
Those who knew and worked with Walker said he was well-respected and well-liked.
Because there is no suspect description available, police and fire officials urged anyone with information to call the Cleveland Division of Police at (216) 623-5464.
See below for additional updates from the news conference.
Walker was treated at the scene then taken to MetroHealth Medical Center where he died from his injuries.
Both the Cleveland Homicide Unit and the Cuyahoga County Medical Examiner responded to both MetroHealth Medical Center and to the scene to investigate.
Cleveland Mayor Frank Jackson released a statement that said, "My thoughts and prayers are with the family and friends of Lt. Walker at this difficult time. His service to our community was invaluable and he will be missed. I am truly sorry for your loss."
Walker was a 15-year veteran with the Cleveland Division of Fire.  He was promoted to lieutenant in August.
Walker is survived by a wife and two children.