This is an archived article and the information in the article may be outdated. Please look at the time stamp on the story to see when it was last updated.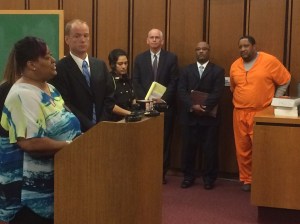 CLEVELAND, Ohio — A Cleveland man has been sentenced to life in prison after pleading guilty to shooting and killing his 12-year-old stepdaughter.
Rufus Gray pleaded guilty Monday afternoon to several charges, including aggravated murder, for killing Davia Garth last October and trying to kill her mother Sonya Garth.
Garth says she was in the process of divorcing Gray, when he came storming into her home last October and started shooting.  She was shot four times.
She says Davia ran to her trying to protect her when she was shot.
Gray will be eligible for parole after 31 years.
Stick with Fox 8 and Fox8.com for more.