This is an archived article and the information in the article may be outdated. Please look at the time stamp on the story to see when it was last updated.
EUCLID, Ohio– The man accused of egging a home in Euclid more than 100 times in the span of a year will not serve any time in jail.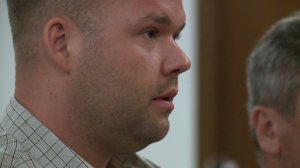 Jason Kozan, 31, was sentenced to 18 months probation Tuesday morning. He also has to pay a $1,000 fine.
In March 2015, 86-year-old Al Clemens Jr. contacted FOX 8 News about his home being egged dozens of times in just more than a year. After a lengthy investigation, Euclid police arrested and charged Kozan with felony vandalism.
"We were virtually held hostage in our home, unable to use our front entrance during after-dark hours. Attacks occurred at least three to five times a week, at times as late as 3 a.m. in the morning. And on a few occasions, more than one attack per night," Clemens said.
Last week, he took a deal and pleaded guilty to inducing panic.
Clemens said Kozan didn't just throw eggs at his home; he threw produce and canned goods too.