This is an archived article and the information in the article may be outdated. Please look at the time stamp on the story to see when it was last updated.
CLEVELAND--Stepping up when it matters most: one Cleveland company has a crew of lifesavers.
Several workers at Morrison Products have been credited for helping a co-worker through a potentially fatal health scare earlier this month.
John Piller, 63, has been working at Morrison Products for more than forty years.
"All I remember, and I was told later that I was walking by my table,
looked a little funny, and passed out," Piller said.
Piller was actually at work when he had a massive heart attack on December 2, and he was grateful he was on the job.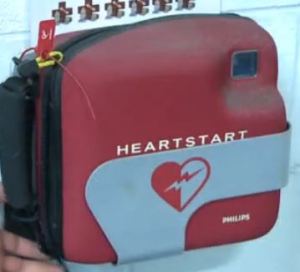 Four co-workers came to his aid and used an Automated External Defibrillator (AED) to keep him alive before paramedics arrived.
At least 25 employees at Morrison are certified in American Red Cross training for that very scenario. The company has worked with the Red Cross for the last ten years to offer the training.
"We're here to celebrate John Piller that he is with us today," said Harry Holmes of Morrison Products.
The factory workers gathered together on Monday to celebrate the survivor of this ordeal, but also the courageous co-workers who stepped up when it mattered most.
They were given a 'Lifesaver' certificate in front of the staff.
"Thank God it happened to me while I was at work," Piller said.
After the incident, Piller spent four days at the Cleveland Clinic to recover from the cardiac arrest.
One of the rescuers spoke to FOX 8 News, Monday afternoon. "I didn't have to think too much about what what going on. I just relied on the knowledge I already had from those classes," said Kathy Kuhn.
"With this knowledge it makes a big difference. I think it makes you confident enough to jump into a situation where you might not do otherwise," she added.
At Monday's event, Red Cross workers expressed the need for more companies to take advantage of their training opportunities.
Piller is living-proof that knowledge is power. "If it would have happened anywhere else, I don't think I would have made it," Piller said.