This is an archived article and the information in the article may be outdated. Please look at the time stamp on the story to see when it was last updated.
CLEVELAND-- A Cleveland man received instructions from a judge, Wednesday morning, to wear an "idiot" sign, starting Monday.
Richard Dameron was back in Cleveland Municipal Court, in Judge Pinkey Carr's courtroom and given the sign by Carr's bailiff, David Morrow.
Dameron has to wear the sign as part of his sentence. He threatened to kill a retired police officer.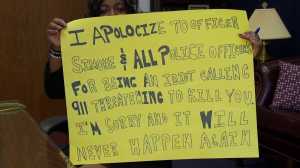 The sign reads:
"I apologize to Officer Simone, his family, all law enforcement officers and Ms. Adkins for threatening to kill them. I was being an idiot and it will never happen again."
Ms. Adkins is Dameron's son's girlfriend, whom he also threatened.
The threats were made during a 911 call Dameron placed in February.
The judge also gave Dameron directions on where and when he has to wear the sign.
"Starting Monday at 7 a.m. to 10 a.m.," Judge Carr told the 58-year-old Cleveland man.  "Don't be late and don't leave early."
He has to wear the sign in front of the second district police station, for three hours every day starting Monday.
The judge also said Dameron cannot smoke or talk on the cell phone while wearing the sign.
Dameron was originally ordered to wear the sign in May but he didn't show up.
He was ordered to serve 60 days. He was recently released and now must wear the sign.
Last fall, Carr made Shena Hardin wear an "idiot" sign when she drove around a school bus full of kids.