This is an archived article and the information in the article may be outdated. Please look at the time stamp on the story to see when it was last updated.
RICHMOND, Va. (KTVR) —  Looking for incentive to lose weight? Try this on for size.
A Virginia man, who weighed 300 pounds, was not allowed to ride a roller coaster at Kings Dominion theme park.
Park workers at the Volcano told Nat Ambrose the harness would not fit him, and he couldn't ride for safety reasons.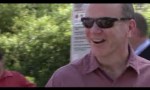 Ambrose said he was embarrassed and decided to make some serious changes.
He lost 105 pounds in nine months!
He returned to the park a new man and rode the coaster.
(CNN)