This is an archived article and the information in the article may be outdated. Please look at the time stamp on the story to see when it was last updated.
CUYAHOGA FALLS, Ohio — It's a sight of the Christmas season and it's not even Thanksgiving yet. The camp out for Black Friday deals as begun.
Tony Avitar of Akron has a home away from home, at least for the next few days. He has set up a tent right outside the Best Buy in Cuyahoga Falls. 
The father of five has been there since Thursday afternoon — a week early — to be the first in line when the store opens for Black Friday.
"When you have five kids and you have limited income what you want to be able to do is — is want to be able to provide for them and get them decent Christmas presents," he said.
Avitar is no novice.  He's camped out for the past nine years.  And, he has done his homework.  He knows exactly what he wants and how much he'll save. 
"Every year, I save at least a thousand dollars.  I think this year the good sales are a 40-inch Toshiba flat screen that's normally about $500 bucks, it's $179.  Also laptops.  Anyone who can't afford a laptop, I think there's one for $180 bucks," he explained.
The bargain hunter is not alone.  Family and friends like Summer Morgan help him out.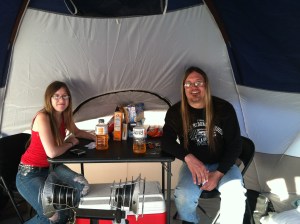 "Take breaks.  If we need to grab food, take showers.  We take turns," she said.
But even Morgan questions what he's doing.  
"I understand the concept of saving money, but going out a week ahead is a little crazy," she said. 
A second tent was set up on Friday, but there was no one inside when Fox 8 News Reporter Maria Scali stopped by on Saturday. 
While some Best Buys across the country have discouraged the camp outs, that is not the case at the Cuyahoga Falls store. 
"We always have great deals on Black Friday. It's always great to see the passionate customers every year who are camping out, making the effort.  It's a tradition in itself," Manager Nick Dolansky said. 
Shoppers had mixed reactions seeing the tents outside the store. 
Todd Gray had just made a purchase at Best Buy. 
"You got these people over here camping out a week early.  I'm sorry, that's just crazy," he said. 
But shopper Toye Akin saw it differently. 
"Very smart for him to come out early, start camping out here to get the deals on Black Friday.  It think that's smart," he said. 
Avitar said he will remain in the tent until Best Buy opens Thanksgiving night at midnight. 
"I'll be here for the duration," he promised.
Avitar said he will even have Thanksgiving dinner in the tent with his family.  That's been their tradition the past few years.