This is an archived article and the information in the article may be outdated. Please look at the time stamp on the story to see when it was last updated.
PARMA, Ohio – A local man was cited for obstructing official business after holding a warning sign near an OVI checkpoint last week at State and Brookpark Roads.
Doug Odolecki, 43, runs the Greater Cleveland CopBlock. It's an online forum, www.copblock.org, where users are devoted to holding the police accountable for their actions, Odolecki told FOX 8 News.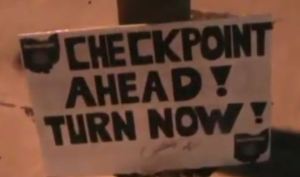 "I go anywhere Greater Cleveland calls," said Odolecki, who captured a run-in with police on Friday, June 13.
He had a video camera recording the moments before, during and after he stood at the intersection with a sign that read, 'Checkpoint Ahead! Turn Now!'
"You're gonna be cited," warned a police officer who approached Odolecki, who said he doesn't support drunk driving; he's just against what he considers an abuse of power.
"It is a Nazi-esque style checkpoint. It is a papers-please type checkpoint. These guys are not out there for your safety or anything like that, so if you think that, think again," said Odolecki.
Odolecki admits the Parma police officers approached him at the intersection to first issue him a verbal warning. The officers didn't have an issue with him holding the sign, but they said he had to remove the phrase 'turn now' because they viewed it as obstructing official business.
"Our sobriety checkpoint is all about educating the public," said an officer on the video, "and we need them to come through the checkpoint to educate them."
According to state law, the police in Ohio are required to alert the public a few days before a checkpoint is set up, but in this case, they thought Odolecki was going too far. They issued him the citation for obstruction.
"You're supposed to be protected against illegal searches and seizures. You're supposed to be protected against just being harassed and stopped every time the police see you," he said.
Odolecki has a lawyer and he plans to fight the ticket in court. He also said the incident won't stop from doing what he believes is necessary.
"We wanna make sure that these cops are not doing anything bad," he said, "but we also want to make sure that you guys are not out there drinking and driving as well."
Parma police have approximately four checkpoints a year, according to a spokesperson. Last Friday, 1592 vehicles entered the checkpoint and 499 were checked.