This is an archived article and the information in the article may be outdated. Please look at the time stamp on the story to see when it was last updated.
MAYFIELD HEIGHTS, Ohio-- The man accused of murdering a woman and setting fire to her home, killing her daughter, appeared in court Wednesday afternoon.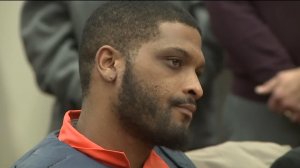 Dominique C. Swopes is charged with two counts of aggravated murder, one count of aggravated arson and one count of receiving stolen property. During the hearing in Lyndhurst Municipal Court, the judge set his bond at $5 million.
Firefighters responded to the blaze on Longwood Road in Mayfield Heights on Nov. 20. They found Rebecca Pletnewski, 41, dead inside and pulled her daughter from an upstairs bedroom. Olivia Schneider, 8, was taken to a hospital, but died of smoke inhalation.
Pletnewski, a nurse at University Hospitals Cleveland Medical Center, was stabbed to death prior to the fire, according to investigators. Court documents said Swopes also disposed of Pletnewski's rings.
Police Chief Fred Bittner said Swopes, a neighbor, became a suspect after speaking with the victim's family members. They said Pletnewski was worried about his stalking and unwanted advances.
Pletnewski, who leaves behind a 4-year-old daughter, and Schneider were laid to rest on Monday.
Continuing coverage of this story here