This is an archived article and the information in the article may be outdated. Please look at the time stamp on the story to see when it was last updated.
CLEVELAND– Jason Middaugh pays close attention to detail.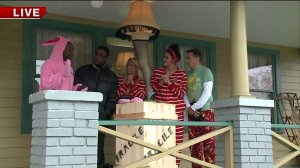 The creator of the LEGO "A Christmas Story" House made sure to include all the iconic movie moments in his set.
So when the FOX 8 in the Morning team spent the night at the real house, located in Cleveland's Tremont neighborhood, Middaugh got to work.
He put together LEGO minifigure versions of Stefani Schaefer and Kristi Capel in their matching pajamas. Wayne Dawson and Todd Meany are also dressed in festive attire. Plus, LEGO Kenny Crumpton is sporting the "pink nightmare" bunny suit.
Middaugh even included tiny microphones, a light kit and a camera. Of course, there's a photographer at the house to document all the fun.
Middaugh is still trying to get LEGO to make a version of the "A Christmas Story" house available in stores. The project has the support of more than 7,700 people on the LEGO Ideas website. If it reaches 10,000 supporters in the next 399 days, it'll be submitted to the company for approval.
Click here to support the LEGO "A Christmas Story" house