This is an archived article and the information in the article may be outdated. Please look at the time stamp on the story to see when it was last updated.
PAINESVILLE, Ohio- The Lake County Sheriff's Office is looking for information after a convenience store clerk was assaulted.
The woman was alone in the Perry One Stop on North Ridge Road just after 8 p.m. on March 22.
The sheriff's office said a man wrapped his arm around the clerk and tried to kiss her, while pushing her against a counter. The victim broke free and called 911, as the suspect paced the store and apologized.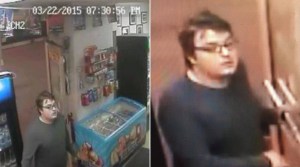 The attacker was a passenger in a dark-colored sedan, according to the Lake County Sheriff's Office. He was wearing thick-framed glasses and was about 6 feet tall.
Anyone with information on the suspect should call Det. Kelley at 440-350-5882. Tips can remain anonymous.