This is an archived article and the information in the article may be outdated. Please look at the time stamp on the story to see when it was last updated.
CONNEAUT, Ohio– He was on the run for nearly three weeks. On Friday, the man accused of murdering a 13-month-old girl appeared in court.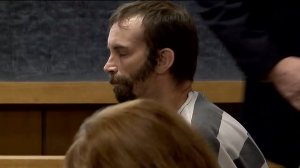 Joshua Gurto, 37, is charged with aggravated murder, murder, rape, felonious assault and domestic violence. He pleaded not guilty and his bond was set at $1 million.
The badly beaten body of Sereniti Blankenship-Sutley was found in her Conneaut home on Oct. 7. Her mother was Gurto's girlfriend.
After the discovery, Gurto took off, hitchhiking his way to Pennsylvania. He was taken into custody on Oct. 27 after being spotted on surveillance video at a convenience store outside Pittsburgh.
Gurto was extradited back to Ohio. He could face the death penalty if convicted.
Family of the victim packed the courtroom on Friday. Many of them wore pink shirts.
Family and friends  of Sereniti and her family will hold a fundraiser in Sereniti's honor on Saturday at Amboy United Methodist Preschool. All proceeds will go to the Halo program to help purchase gifts for children at Christmas.