This is an archived article and the information in the article may be outdated. Please look at the time stamp on the story to see when it was last updated.
CHESTER TOWNSHIP, Ohio — Goddard's Law is having an impact once again in Northeast Ohio.
For the first time in Geauga County Friday morning, someone was charged under the law which makes it a felony to harm a pet.
Chester Township resident, Dennis Dudich, was in court Friday, charged with animal cruelty and discharging a firearm in a prohibited area.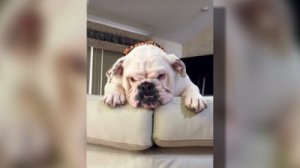 Dudich is accused of shooting his neighbor's bulldog, Zoey in another neighbor's yard.
He pleaded not guilty in court to the charges.
Zoey's owner, Peggy Yagour, told FOX 8 Friday morning, "I hope that he gets the maximum sentence. I hope he loses his guns. He has no right to own guns. I hope he becomes a felon. And if he has to do jail time, so be it."
If convicted, the 68-year-old could be sentenced to a year in a jail and ordered to pay a $2,500 fine.
Goddard's Law is named after FOX 8's long time weather man, Dick Goddard.