This is an archived article and the information in the article may be outdated. Please look at the time stamp on the story to see when it was last updated.
CANTON, Ohio– The man accused of shooting and killing a Canton police K-9 now faces several charges.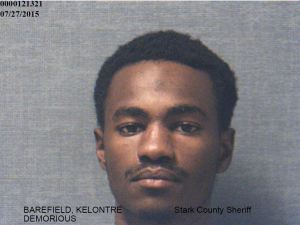 Kelonte Demorious Barefield, 22, has been charged with aggravated burglary, assaulting or harassing a police dog, felonious assault on a peace officer, having weapons under disability and shooting on or near a prohibited area. Additional charges may be filed.
Canton police said Barefield remains at Aultman Hospital for injuries he suffered the night of the shooting.
Officers and K-9 Jethro responded to an alarm at Fisher Foods on Harison Avenue early Saturday morning. While searching the area, police said Barefield fired several shots. Jethro suffered gunshot wounds to the face, shoulder and neck.
Police returned fired, shooting Barefield in the leg.
"There is no doubt in my mind Jethro saved the lives of the officers that night," said Canton Police Chief Bruce Lawver.  "If Jethro had not been there, I believe the other officers would have been shot."
The chief said the suspect ambushed Jethro and his partner, Officer Ryan Davis. No other officers were injured.  But a stray bullet struck a headlight of one of the cruisers, police said.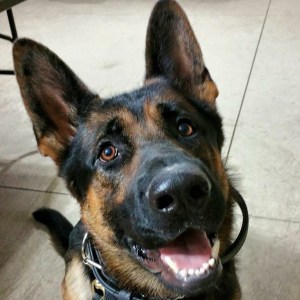 Jethro passed away Sunday morning.
"It's absolutely devastating," said Officer Eric Stanbro.
Stanbro said Davis had Jethro since he was 8 weeks old.   He was 3 years old when he died.
The chief said there is body camera video of the incident, but it will not be released while the case is being investigated.
Services for the police dog will be Thursday at noon at the Canton Memorial Civic Center. Doors open at 11 a.m.
Cleveland Avenue North will be closed to all traffic from 9th Street NW to 12th Street NW from 10:30 a.m. until the services are complete.
Members of the department are wearing black tape across their badges to mourn Jethro's passing.
The Canton Police Department is not seeking donations at this time, but checks and condolences can be sent to 221 3rd Street SW, Canton, Ohio, 44702. Please make checks out to the Canton Police Department and write "K-9" on the memo line.
Continuing coverage of Jethro here