This is an archived article and the information in the article may be outdated. Please look at the time stamp on the story to see when it was last updated.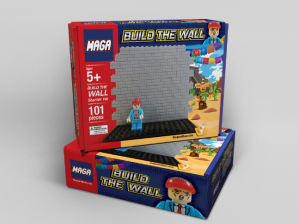 A conservative website called "Keep and Bear" that offers up pro-Donald Trump and pro-Second Amendment merchandise is now taking orders for a "MAGA" building block set that encourages children to "Build the wall."
According to the website, the starter set comes with more than 100 pieces including "President Trump in a MAGA hard hat."
The set is selling for $29.95 and will begin shipping on Nov. 23rd, the website said.
"A mob of 10,000 Central American migrants is marching through Mexico and heading toward El Paso, Texas," a description reads. "Mexican border agents attempted to stop them at the Mexican border, but to no avail."
"The wall must be built," the description continues. "The wall will keep America safe and strong. Only then will we be able to help those in need."
Keep and Bear was launched in 2016 "to showcase the release of the groundbreaking film, 'Keep and Bear: America's Most Controversial Right'."
The website said the film, which supports the Second Amendment, was so successful that the website grew to "become one of the largest purveyors of conservative resources online." They sell t-shirts, bumper stickers, flags, Bibles, patriotic novelty items, and more.