This is an archived article and the information in the article may be outdated. Please look at the time stamp on the story to see when it was last updated.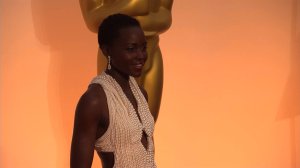 LOS ANGELES  — The saga of the stolen Oscar dress continues. In more ways than one.
Sheriff's officials say deputies have recovered a dress that strongly resembles the pearl encrusted, custom dress taken from Oscar-winning actress Lupita Nyong'o's hotel room earlier this week. The recovery of the dress was first reported by celebrity website TMZ.com, which wrote in a post that a person claiming to have taken the gown gave them information about where to find the dress.
But in a strange turn of events, the alleged thief said that he returned the dress, because when he took two of the gown's pearls down to the Los Angeles garment district, he was told the pearls were fake. So he returned the dress.
Authorities originally placed the gown's value at $150,000, although it could possibly have fetched more on the black market.
Law enforcement sources say  that Calvin Klein's people never told them if the pearls were real or fake. And a source directly connected with the Women's Creative Director of Calvin Klein put it this way, "Did anyone ever say they were real from Calvin Klein? I always assumed everyone knew they were fake, but I guess not."
The source also wondered,  "Do they really make dresses out of real jewels since Cleopatra died?"
You can read more about the disappearing Oscar gown by clicking here.