This is an archived article and the information in the article may be outdated. Please look at the time stamp on the story to see when it was last updated.
LORAIN, OH - As the strongest storm in a generation hits the island of Puerto Rico family in Lorain continue to worry about the safety of loved ones trapped in Hurricane Maria's deadly path.
"Just praying just hoping that they are safe," said a tearful Victor Leandry, the executive director of El Centro in Lorain.
Leandry, normally used to helping others though social services, is helpless as his mother is caught in the most powerful hurricane to hit the island in more than 80 years.
"There's a lot of people like me who have family still in Puerto Rico," said Leandry. "I am a little bit scared."
Fox 8 called Vannessa Vazquez in San Juan via FaceTime just before the island completely lost power. She has family in the Cleveland area.
"I just don't want my family to get hurt by nature," said Vazquez. "You know, I just want this to be over."
Vanessa sent this text to Fox8's Maia Belay later: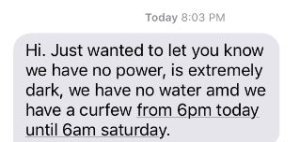 El Centro is preparing for a rush of calls in the coming days. As people seek help contacting loved ones in Puerto Rico. When the calls begin to pour in Suzette Sanchez, who survived two hurricanes on the island before moving to the area will be the comforting voice on the other end.
"The sound of it is deafening, it's scary," said Suzette Sanchez, who has family on the island. "The sounds, you can hear the things flying in front of your house. Hitting your widows hitting the doors the water you can see it rising."
The only comfort for people at El Centro is knowing family in Puerto Rico are not alone. For others riding out the storm there now, the agonizing wait for power and aid continue as they hunker down for another sleepless night.
"It's just stressful being in your house on lockdown and just not controlling what's going on outside," said Vazquez.